NEW Introductory Offer 🙌 - Cranial Sacral Therapy 💆‍ - Half Price During June - Was £65 Now Just £32.50 -
Find Out More
Call Us
Phone: 01403 598017
Text Us
Phone: 07795 983870
Treatments
Treatments
Quick Contact
01403 598017

07795 983870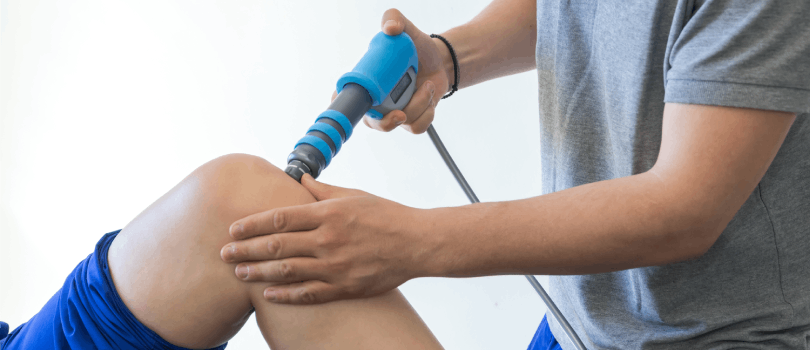 Shockwave Therapy
Shockwave therapy is a treatment used for fast, effective pain relief and mobility restoration. It helps speed up recovery in a huge variety of musculoskeletal injuries.
Shockwave has been proven to be extremely effective as a non-surgical treatment for chronic pain associated with chronic inflammation and degeneration of tendons, joint capsules, ligaments, muscles and bones. It is also a great support in the therapy of trigger points, and radiating pain problems.
How it works:
Shockwave therapy works by applying high energy impulses to targeted areas of abnormal or damaged tissue. It is a safe, non-invasive, cost effective treatment.
Shockwave therapy has two main modes of action which will help with persistent pain. First the shockwaves work to desensitise nerve endings which gives an immediate reduction in pain. Secondly, the shockwaves cause controlled micro-trauma to the tissues which encourages the body to respond by increasing the blood circulation and metabolism in the affected area. This activates and accelerates the body's own healing response and can also breakdown disorganised tissue and calcifications. The outcome is faster recovery from injury and pain relief for a number of chronic conditions.
---
FAQ's
Who is shockwave therapy suitable for?
Shockwave is suitable for patients who have had their pain for several months which has not been resolved with other conservative treatments. Shockwave therapy is designed for stubborn issues that are not improving. It is a minimally invasive treatment that can significantly speed up the healing process and get patients back on track.
Who will carry out my shockwave treatment?
Your shockwave treatment will be carried out by one of our highly specialised therapists. They have received specialist training in shockwave therapy and have extensive experience in treating stubborn, chronic injuries.
Is shockwave therapy painful?
Shockwave treatment can cause some mild discomfort or pain due to creating a new healing process in the tissue. The level of discomfort depends on the type of injury, site of the injury, and how painful or tender the area is before commencing the treatment.
Your therapist will work with you to determine your pain tolerance and if the pain is too much, we can adjust the intensity accordingly.
What should you expect to feel after shockwave therapy?
Most patients will experience immediate pain relief following the treatment. However, within 2-4 hours after the treatment, you may experience some temporary soreness and tenderness in the treated area. This is a normal reaction to shockwave therapy and in most patients, will not limit normal daily activity.
How quickly will I see results?
Although most patients will experience immediate pain relief, it is important to remember that this does not mean the injury or condition is fully healed. Shockwave therapy works most effectively as part of a complete treatment and rehabilitation programme. The number of treatments required varies depending on the injury and tissue response. The effect is cumulative, so you will typically need more than one session.
How much does it cost?
At the Horsham Sports Injury Clinic, we are currently offering shockwave treatment at £60. This includes the consultation, a diagnosis of your injury, shockwave therapy, and a rehabilitation programme.